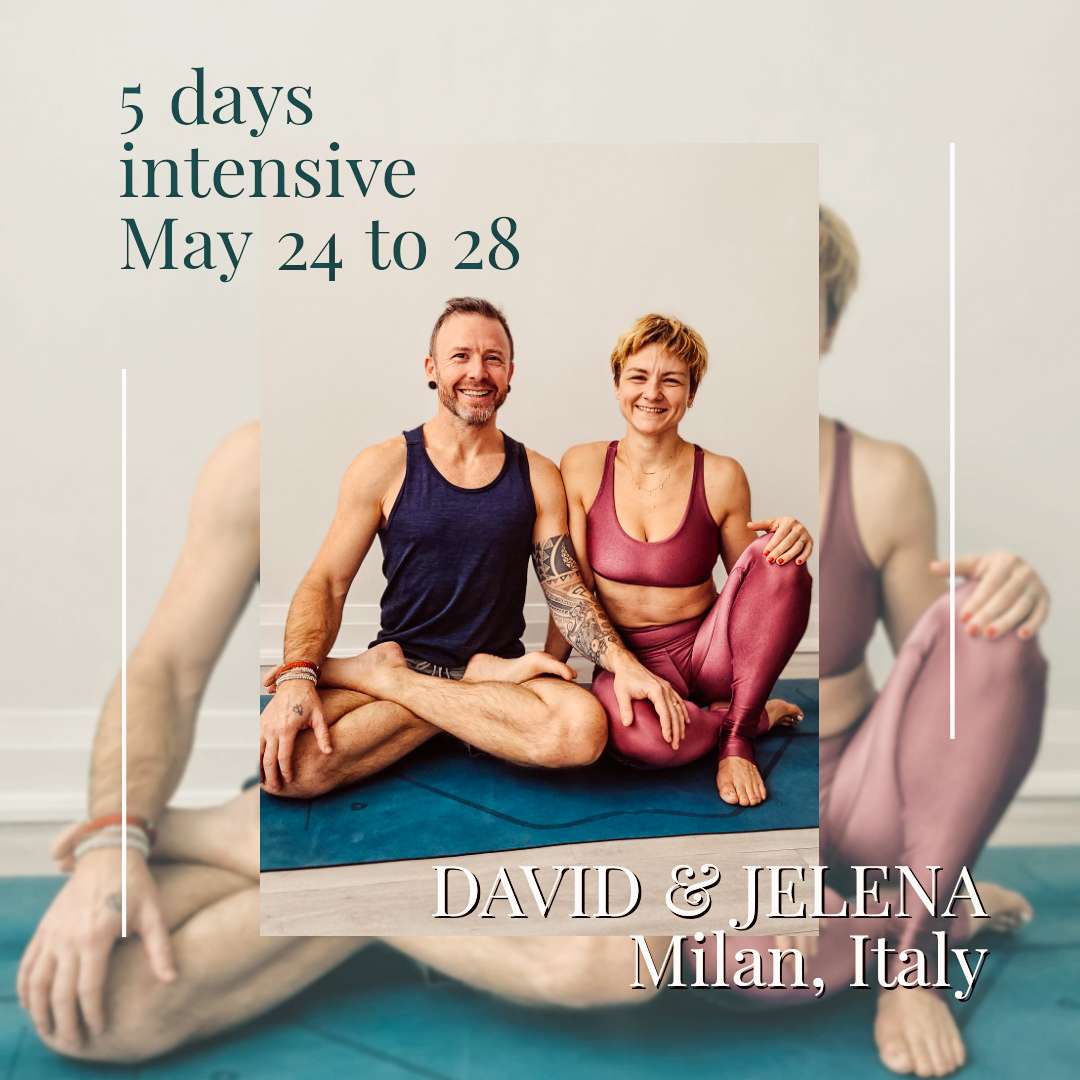 May 24 to 28: DAVID ROBSON & JELENA VESIC in MILAN, ITALY
Ashtanga Yoga Italia is honoured to host for the 5th time in Milan David Robson and Jelena Vesic, two of the most recognized Ashtanga Yoga teachers in the world.
From May 24 to 28, a 5 days Ashtanga Yoga Intensive that includes: Mysore style classes, a led primary series with the traditional Sanskrit count, workshops every afternoon… and much more!
The intensive is suitable to all levels of practice. If you're new to ashtanga but DON'T know the sequence yet, get in touch.
Wednesday, May 24:
→ from 6.15h: MYSORE STYLE 
14.30h → 15.15h – meditation session
15.30h → 17.30h – workshop: "SECRET TEACHINGS OF VINYASA" – Vinyasa means moving/breathing system, and the vinyasa system provides the defining structure for the Ashtanga practice. Vinyasa is not only a tool for linking postures, but also a powerful meditation technique that, with each practice, helps us to embody Yoga. Discover the secrets teachings of vinyasas!
Thursday, May 25:
→ from 6.15h: MYSORE STYLE 
14.30h → 15.15h – meditation session
15.30h → 17.30h – workshop: "ASANA CLINIC": Healthy biomechanics and anatomical principles applied to Ashtanga's traditional conditions of vinyasa and asana. Jelena and David will share their insights on safe alignment for the longevity of your sadhana.
Friday, May 26:
→ from 6.15h: MYSORE STYLE 
14.30h → 15.15h – meditation session
15.00h → 17.00h – workshop: "UNIQUE VINYASAS" – An entertaining and vigorous tour of the unique vinyasas that show up through Ashtanga's first 3 series! Unique vinyasas are the special entries and exits in and out of specific postures in your practice.
Saturday, May 27:
→ from 8h: MYSORE STYLE 
13.00h → 13.45h – meditation session
14.00 h → 15.30 h – workshop: "BANDHAS & BREATH"– Ashtanga is fundamentally a meditation practice built around the observation of the breath. A key element of the special breath we do in Ashtanga Yoga is the use of physical and energetic contractions known as bandhas, or locks. The locks help us to control our breath and direct our energy through the body.
16.00h → 18.00h – workshop: "JUMPS BACK / JUMPS THROUGH" – Jump backs and Jump throughs are the transitional movements that link Ashtanga's sitting poses together. These vinyasas provide a bridge to carry our focus between asanas, and also build a purifying heat in the body that is said to boil the blood. David and Jelena will teach you how to do correct jump back vinyasas, whether by floating the legs through, or walking the feet back and forth. A great workshop for all levels of practice.
Sunday, May 28:
 → 9.00 h – TRADITIONAL SANSKRIT COUNTED LED FULL PRIMARY SERIES followed by PRANAYAMA AND MEDITATION
13.00 h → 15.00 h – workshop: "BACKBENDS" – Explore the basic alignment and actions of Ashtanga's Primary & Intermediate Series backbends. David and Jelena will teach you 4 distinct biomechanical principles that will take the pain out of backbending and allow your body to safely go deeper into the postures. 
15.30h → 16.30 h – Q&A SESSION – Time dedicated to all the questions you have always wanted to ask to Jelena and David.
→ Mysore classes will runs on shifts which will be communicated closer to the event. In the first shift, priority will be given to those who need to go to work after practice.
→ Times may be subject to change should the need arise.
The intensive is taking place:
Wednesday, Thursday and Friday at Ashtanga Yoga Italia, viale Doria 35 – Milan. Please note: the afternoon workshops may be moved to a bigger location if needed.
Saturday and Sunday at Milano City Ballet, viale Sarca 336, building 16 – Milan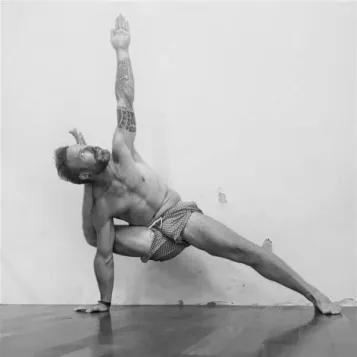 DAVID ROBSON is a practitioner and teacher of Ashtanga Yoga, in the tradition of Sharath Yoga Centre (SYC). Is the Director of the Ashtanga Yoga Centre of Toronto (Canada), where he leads one of the world's largest Mysore programs outside of India.
David began a daily practice in 1998 while at university studying Comparative Religion. After graduating, David made his first trip to Mysore, India in 2002, where he initiated studies with his teacher Sharath Jois. Since then he has returned to Mysore annually to deepen and enrich his practice and teaching. In 2007, David was Authorized to teach Ashtanga and now holds a level 2 authorization. He leads workshops and retreats around the world with his wife Jelena.
JELENA VESIC first came to yoga through dance. As a former ballet dancer of 16 years, Jelena made the Ashtanga practice her sole focus in 2009. She's been teaching since 2014, and is now leading the evening Mysore program at Ashtanga Yoga Centre of Toronto (Canada). Alongside her husband, David Robson, Jelena teaches workshops and retreats in Toronto and around the world.
She's made two trips to Mysore, India to study with her teacher, Sharath Jois. In addition, Jelena also considers herself to be a student of Jack Kornfield, a Buddhist teacher and clinical psychologist. She's completed his and Tara Brach's "The Power of Awareness" course, and is now enrolled in their two-year Mindfulness Meditation Teacher Certification Program.
* EARLY BIRD BY APRIL 15 *
LIMITED SPOTS, ENROLL AT THE EARLIEST to get yours.
>>  FULL INTENSIVE:  520€ → EARLY BIRD 480€ for registration and payment by April 15.
SINGLE DAY -> WEDNESDAY / THURSDAY / FRIDAY: 100€
SINGLE DAY -> SATURDAY: 140€
SINGLE DAY -> SUNDAY: 110€
SATURDAY AND SUNDAY: 240€
>> ONLY MORNING CLASSES (4 Mysore & 1 Led):    200€   → workshops, meditation sessions (except Sunday one) and Q&A are not included
And you can't attend all of them:
4 morning classes:   180€
3 morning classes:   150€
2 morning classes:   110€
1 morning class: 60€
To take part to the event it is necessary to get Anima Fenice ASD membership card for 2023 which is 25€ and sign a medical liability waiver.
>> EARLY BIRD for PAYMENTS DONE BY APRIL 15 <<
To register it is mandatory to send the following form to [email protected] saying precisely which session you'd like to attend. We'll be back with availability and payment terms.
---
Event: (specify if full event or which part)
Name and Surname:
Place and date of birth:
Full address of residence:
Tax or fiscal code: (if applicable)
Telephone:
E-mail:
---
Your slot is reserved upon payment.
Payments can be done cash or with bank transfer. For the latter, please make sure you cover the bank expenses/fees for the receiving side as well. If not sure about the bank fees, please add 15€ on top to your due amount.
---
The registration fee already paid is not refundable or transferable.